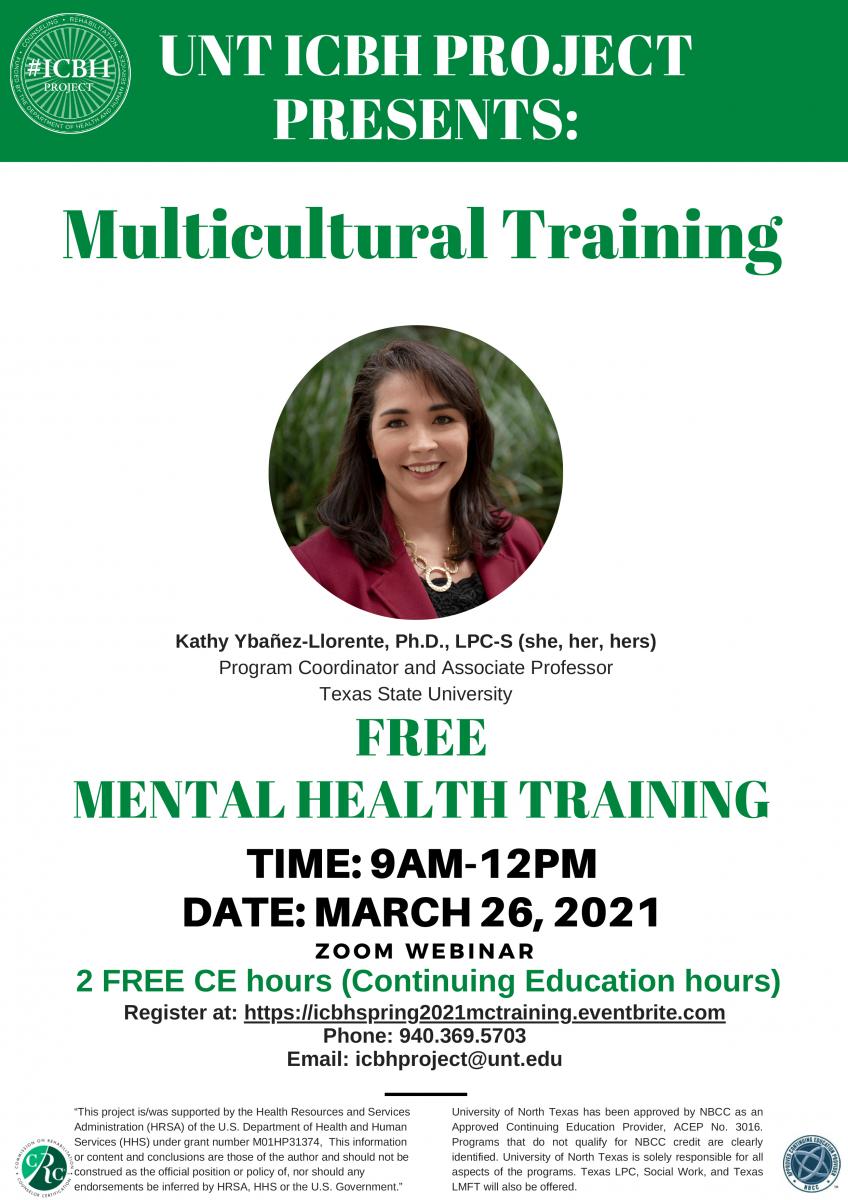 Kathy Ybañez-Llorente Ph.D., LPC-S , (she, her, hers) is an Associate Professor and Program Coordinator in the Professional Counseling Program at Texas State University. Dr. Ybañez-Llorente is a Licensed Professional Counselor and Board approved Supervisor in Texas and has worked with children, adolescents, and families in community agencies, private practice, and inpatient psychiatric settings providing individual, group, and family counseling. She currently provides clinical supervision to post-graduate LPC Associates pursuing licensure in Texas and maintains a small private practice caseload. Dr. Ybañez-Llorente regularly presents at national, regional, and state conferences, and has published in peer-reviewed journals and books, with research interests including clinical supervision, ethical and legal issues, professional licensing issues and licensing board member perspectives, multicultural issues in supervision and counseling, professional identity development, and advocacy. Dr. Ybañez-Llorente has a long history of service to the counseling profession including serving as President of the Texas Association for Counselor Education and Supervision(TACES), TACES Liaison to the Texas State Board of Examiners of Professional Counselors, Chair of the American Counseling Association (ACA) Ethics Committee and chair of the Professional Standards Committee. She recently served as the Parliamentarian for the ACA Governing Council and Executive Council in 2019-2020, as well as the Treasurer for the Association for Specialists in Group Work (ASGW), a division for which she will serve as the next President-Elect. Additionally, Dr. Ybañez-Llorente serves as a member of the Counselor Occupational Licensure Interstate Compact Advisory Group, working with the National Center for Interstate Compacts toward securing portability for professional counselors across the nation.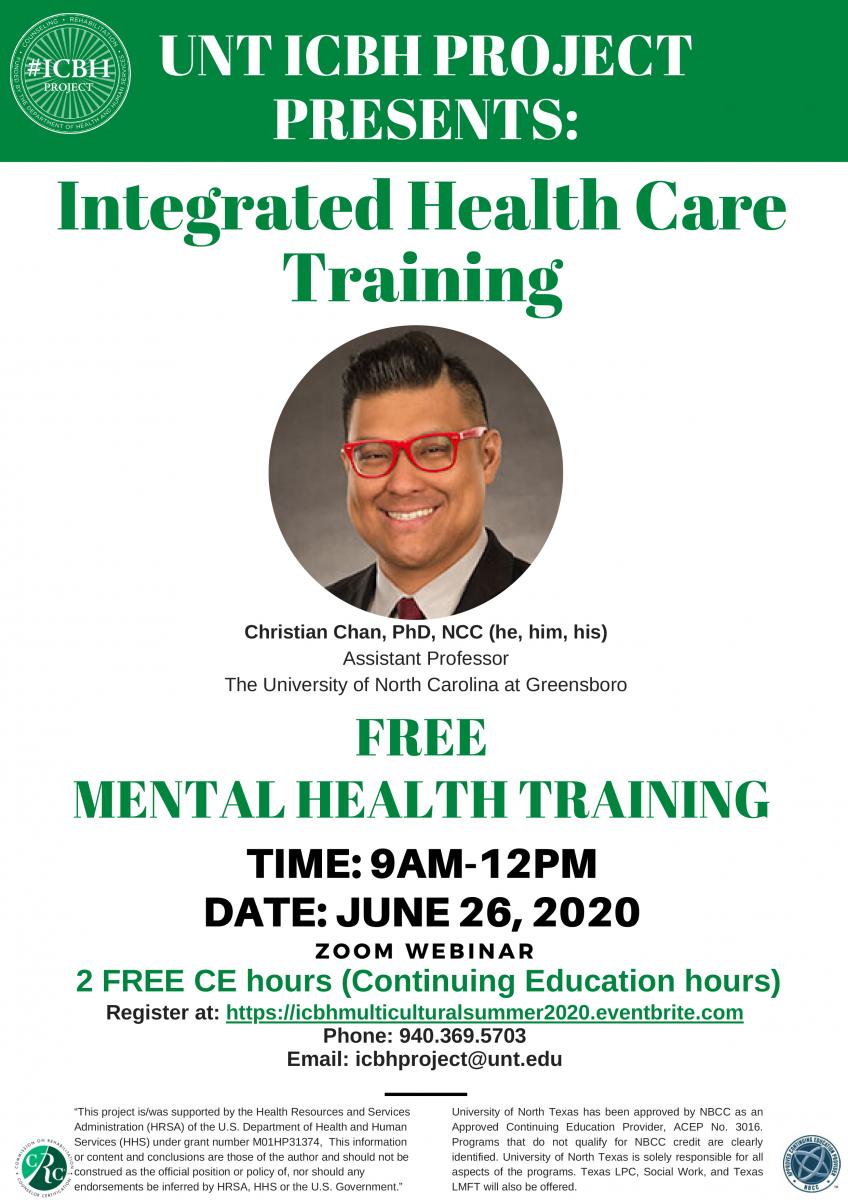 Christian D. Chan (he, him, his), PhD, NCC is an Assistant Professor of Counseling at The University of North Carolina at Greensboro and President-Elect of the Association for Adult Development and Aging (AADA). His interests revolve around intersectionality; multiculturalism in counseling, supervision, and counselor education; social justice and activism; career development; critical research methodologies; intergenerational conflict in families; and couple, family, and group modalities with socialization/communication of culture and social identities. His prior professional experiences include case management with foster care adolescents, career development, higher education administration, and individual, couples, parent-child, group, and family counseling services. As a recent recipient of the AADA President's Outstanding Service Award and ALGBTIC Ned Farley Service Award, he actively contributes to peer-reviewed publications in journals, books, and edited volumes and has conducted over 115 refereed presentations at the national, regional, and state levels.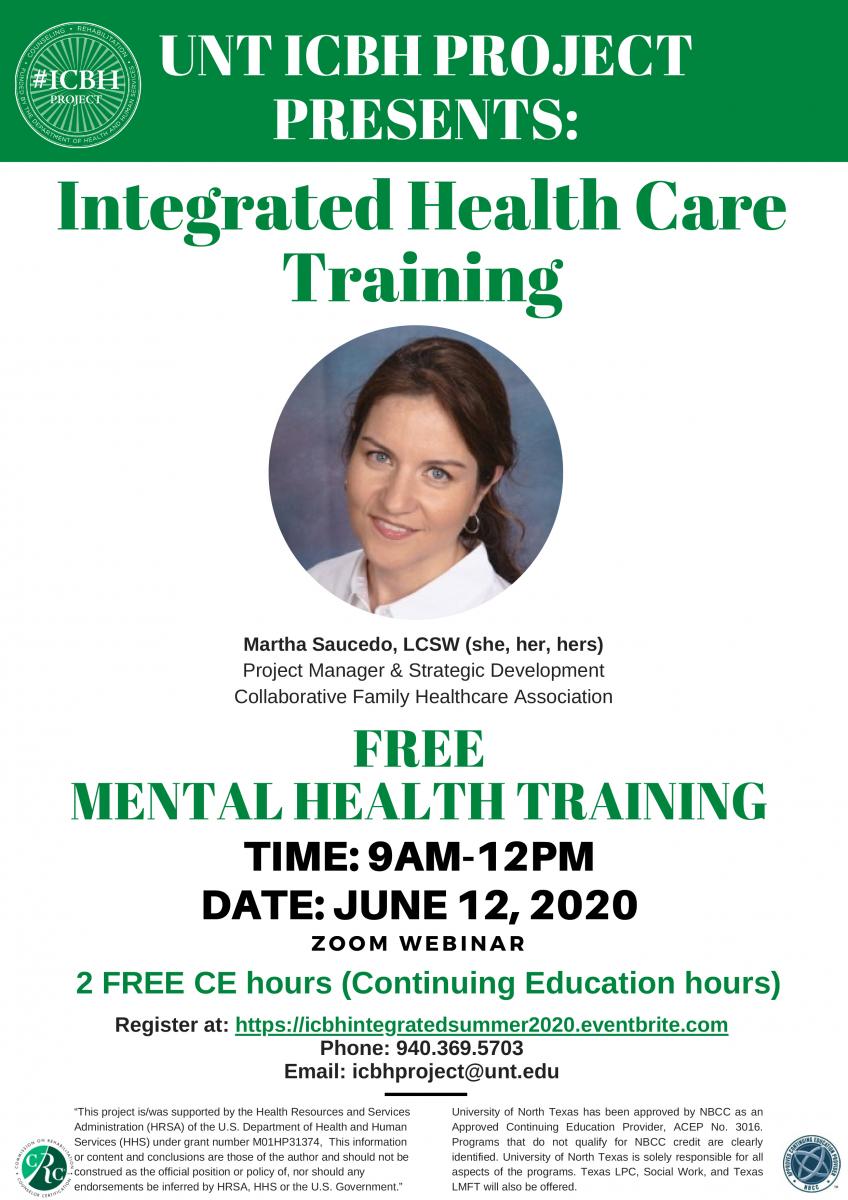 Martha Saucedo, LCSW (she, her, hers) graduated from UW-Madison MSW Program in 2010 and obtained her LCSW in 2013 after immigrating from Monterrey, Mexico where she obtained a Degree in Psychology. Since 2010, she has been working as a Behavioral Health Consultant at Access Community Health Center with a Latino Engagement Lead position working in the community to help understand mental health in the Latinx population. Martha has been an Assistant Professor in the Master Program in Social Work in UW-Madison teaching "Working with Race and Ethnic groups in Social Work" for the last five years. Martha has been a strong advocate in the Latinx Community working towards equality, educating the community and providing mental health services. She is part of the Latino Health Council and the Latinx Mental Health Coalition. She was involved through the University of Wisconsin in a program called Fortalezas Familiares which supports Latina women struggling with depression and providing.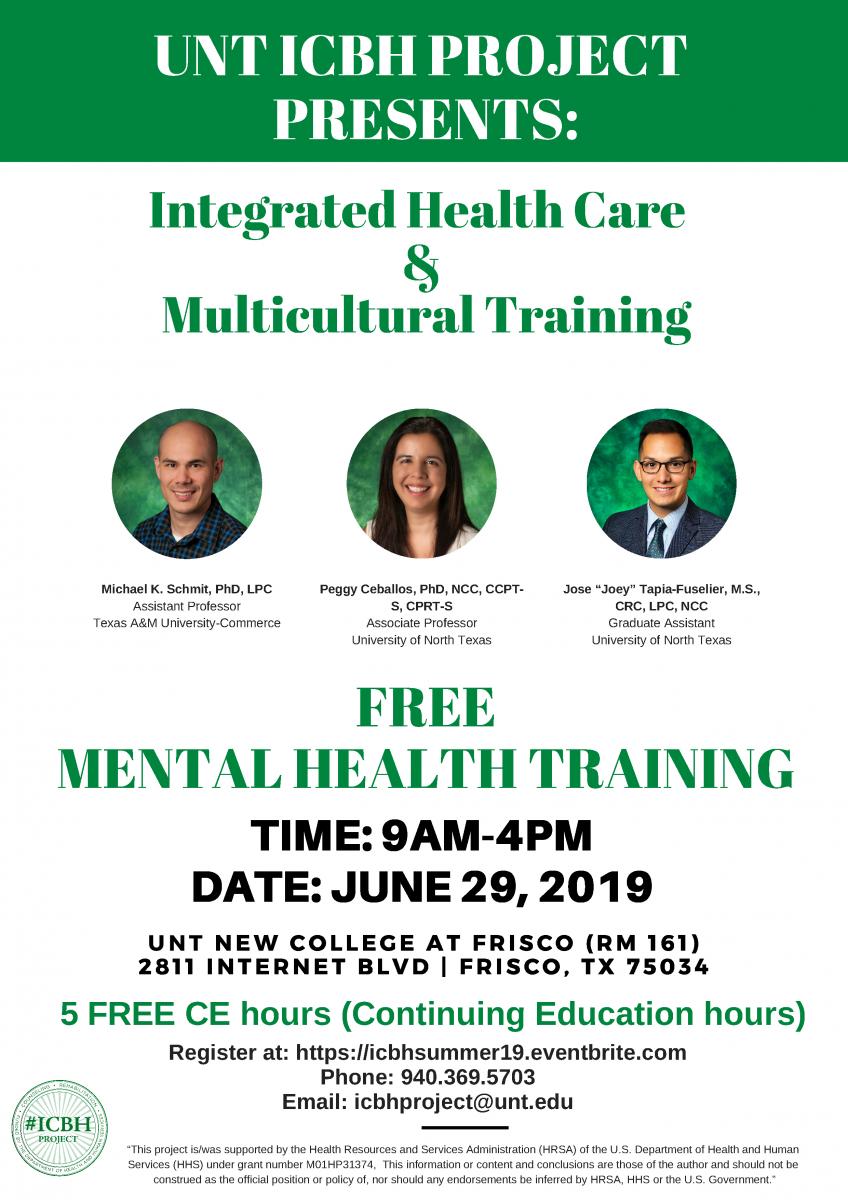 Michael K. Schmit, PhD, LPC is an assistant professor in the department of counseling at Texas A&M University-Commerce. Dr. Schmit has over six years of clinical experience working with persons across the lifespan in a variety of clinical mental health settings. Prior to his current role as a counselor educator, Dr. Schmit was a program administrator at an integrated community mental health center. As an active member of numerous national, state, and local professional counseling organizations, Dr. Schmit is most proud of his service to the Journal of College Counseling as an associate editor and the Journal of Counseling & Development, the flagship journal of the counseling profession, as a reviewer. His research focuses on counseling outcome research, integrated care treatment, and research methods and statistics in counseling. In recognition of his contributions to the profession, Dr. Schmit was recently identified as an emerging leader in the field by the Association for Assessment and Research in Counseling (AARC) and the recipient of two national awards, the Glen E. Hubele National Graduate Student Award, in 2016, and the Best Practices Research Award, in 2018, provided by the American Counseling Association for his research on integrated care treatment.
Peggy Ceballos, PhD, NCC, CCPT-S, CPRT-S, is an Associate Professor at the University of North Texas's Counseling Program. As co-primary investigator, Dr. Ceballos oversees the development of the culturally and linguistically responsive clinical training for the grant. Through her experiences as a school counselor, community counselor, and as a counselor educator, Dr. Ceballos has engaged in research studies in the areas of culturally responsive counseling services for minority clients as well as other issues relevant to multiculturalism and social justice. Her educational background includes specialized training in the use of play therapy and expressive arts as non-traditional counseling interventions to use with linguistically diverse clients. She is a frequent presenter and has been the recipient of multiple state and national awards.
Jose "Joey" Tapia-Fuselier, M.S., CRC, LPC, (pronouns: he, him, his) is currently pursuing his doctoral degree in counseling at the University of North Texas (UNT). He earned his Master of Science in Rehabilitation Counseling at UNT. Mr. Tapia-Fuselier has served clients with disabilities in public and private rehabilitation settings as well as, in private practice. He now serves clients across the lifespan with a focus on disability in three languages: English, Spanish, and American Sign Language. Mr. Tapia-Fuselier's clinical focus is working with marginalized and under-represented populations. His research interests include bilingualism in counseling and supervision, inter-abled couples counseling, and intervention-based counseling for people with disabilities across the lifespan. As Graduate Research Assistant, Mr. Tapia-Fuselier contributes to the development and delivery of trainings and workshops, assist with on-going data collection, entry and analysis. Mr. Tapia-Fuselier currently serves as the Graduate Student Representative for the Southern Association of Counselor Education and Supervision and was recently selected to serve as the Graduate Student Representative for the National Council for Rehabilitation Education for 2019-2021. Mr. Tapia-Fuselier was recently awarded the NBCC Minority Fellowship for 2019.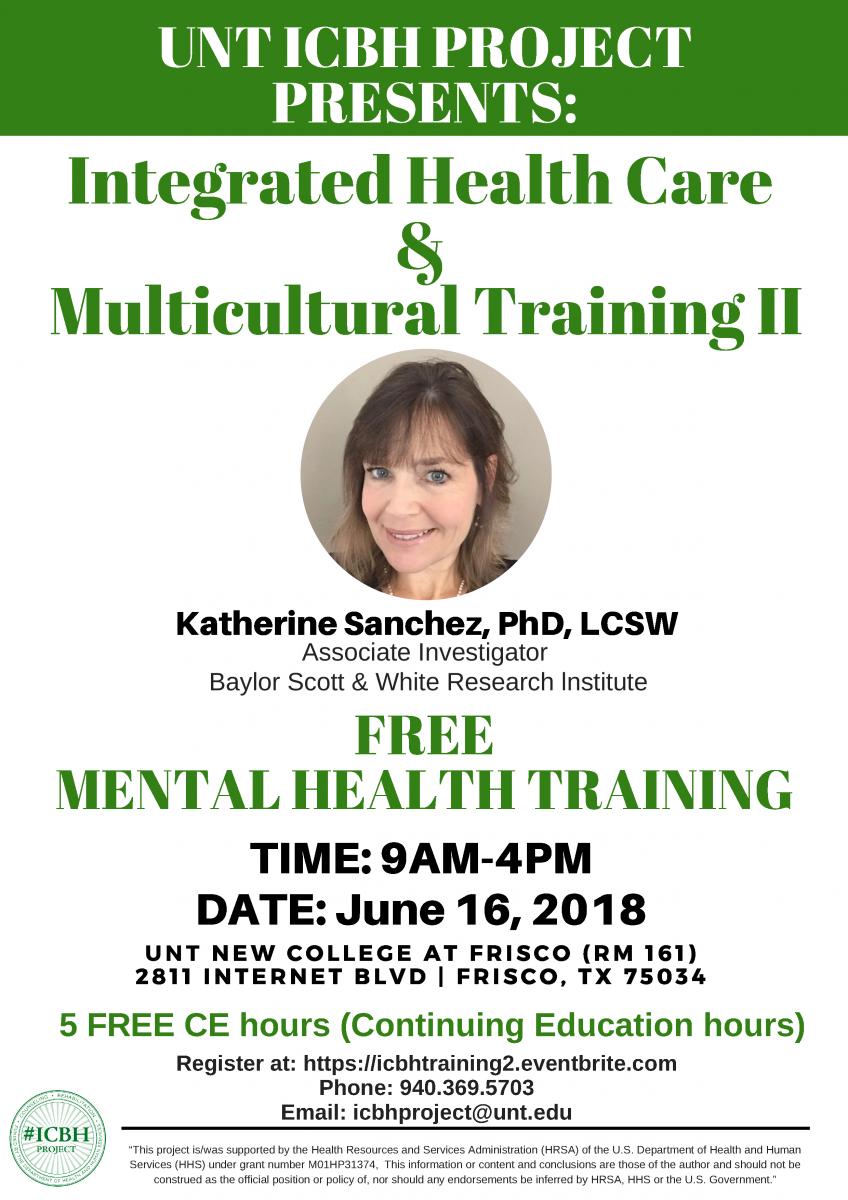 Dr. Katherine Sanchez. Dr. Sanchez is an Associate Investigator at Baylor Scott & White Health, Center for Applied Health Research. Dr. Sanchez also has an appointment as Adjunct Assistant Professor in Psychiatry at UT Southwestern Medical Center (UTSW). Dr. Sanchez practiced as a bilingual clinical social worker for 15 years, primarily in medical settings with monolingual Spanish-speaking populations. Her principal area of research is in integrated health care and the provision of socio-culturally, linguistically adapted models for the treatment of co-morbid mental and physical illness. Dr. Sanchez has developed a robust, well-defined research agenda and a steady funding trajectory. Her current studies aim to advance the scientific knowledge around eliminating mental health disparities by testing a culturally and linguistically centered integrated care approach, and promoting sustainability of the model through peer services to expand the capacity of primary care.
Eric Christian, MAEd, LPC, NCC is a Licensed Professional Counselor and a Nationally Certified Counselor who has been working in the field since 1998. For the past 10 years he has been working in the area of Integrated Care in western NC promoting the systemic spread of behavioral health integration into primary care settings to serve larger populations of patients with behavioral health needs. He works as the Director of Behavioral Health Integration for Community Care of Western North Carolina, where he provides technical assistance, training, and consultation to providers interested in integration. In 2012 he co-edited an Integrated Care text titled, Integrated Care: Applying Theory to Practice, which included author contributions from state and national integrated care practitioners. During the last 4 years he has also been working with the Center of Excellence for Integrated Care as a consultant, assisting sites as they move toward their goals for integration.